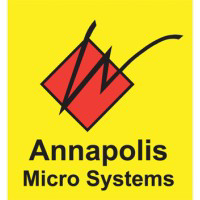 Mechanical Engineering Intern
Unstructured internship
Annapolis, MD
Employed:

Spring 2019
Format: In-person
Department: Hardware Engineering
My experience
Overview
I led the mechanical design of a new conduction-cooled FPGA module with demanding cooling requirements. I designed all the custom metalwork through a parametric study and analyzed heat transfer via conduction using SolidWorks Simulation. I created the assembly model, complete with fasteners and imported PCB models, analyzed tolerance stack-up, and prepared a technical report on my findings. At the end of the term, I presented my assembly design to my supervisor and the company's general manager, and my parts were sent out to be CNC machined. I also worked on assembly instructions for manufacturing technicians and dimensioning part drawings for manufacturing. I also got a chance to see what I was working on, as AMS has an in-house, ESD-safe manufacturing facility, complete with a multi-million dollar pick-and-place machine. As a mechanical engineer in a primarily electronics-focused company, I collaborated with many different teams, whether purchasing or PCB.
Overall, the internship was a good experience for me and really challenged me to step up to the plate, so to speak. I learned a lot about practical engineering work and felt like I accomplished something meaningful. I learned that I do not want to spend my career working on the mechanical design of FPGA boards. It was good to be working during the semester rather than during the summer, as I had more time, but gradually I lost a sense of purpose in my life and was very lonely in Annapolis, as nice as the place is. I put in a lot of weeknight and Saturday overtime, even though I was never asked to, just to complete my work to the level I wanted to. The job was somewhat suffocating, though, located in a nondescript industrial park with cubicles and offices. The in-house manufacturing facility was cool, and I got a chance to spend a day shadowing one of the process engineers. As good as it was for my career, I would not want to go back, as I did not really enjoy the work I did and gained no emotional satisfaction.
Would recommend it to people who...
love CAD; enjoy working on FPGA products; want flexible hours and autonomy; want to be relied on and a crucial part of a team
Would NOT recommend it to people who...
are not willing to put in overtime; dislike sitting in front of a computer all day; are not willing to dig and learn independently when they don't understand something
Impact of work
How much knowledge or experience was needed going in (pre-requisites)?
Time spent working

Interview advice
Interview Rounds
Interview format(s)
Interview type
Advice on how to prepare
Be honest and genuine. Show genuine interest in what you like. I met Jeremy, the company's recruiter, at the ME career fair, and had a phone interview with my future supervisor, the VP of hardware engineering. They're looking for someone who will step up to the plate and do more than the bare minimum, not necessarily someone with a loaded resume.
More questions? Send the reviewer a message!